Who are the candidates for zygomatic implants ?
Patients who have lost their teeth in the upper jaw and don't tolerate wearing removable prostheses (dentures) and who do not have sufficient bone tissue to consider dental implants without bone grafting.
Zygomatic implants are therefore for patients who want to have a fixed prosthetic rehabilitation on implants but without bone graft or maxillary sinus filling and who want an immediate loading meaning teeth without delay.
Zygomatic implants are placed on the zygomatic bone, a bone tissue that does not resorb even in the most extreme cases, and allow a quality anchorage for a fixed dental prosthesis placed immediately.
What are the benefits of zygomatic implants?
No bone grafting.
Your problem is taken care of very fast : on the same day a fixed prosthesis can be restored with a single surgical procedure at the time of placement of the zygomatic implants.
The success rate is high: from 90 to 100% according to international publications, comparable to standard implants, including in the absence of bone tissue.
A stable long term success.
How many implants do you need to get all maxillary teeth back?
How many appointments do you need before placing the dental appliance ?
Several appointments may be necessary, depending on the difficulties of the intervention.
In general it is necessary to consider the following protocol :
1. First contact appointment.
2. Second appointment with the dentist who is in charge of the temporary fixed prosthesis.
3. Program a scanner.
4. Several appointments on the same day to craft your fixed dental device on implants.
5. Pre-anesthesia appointment.
6. Surgical intervention, ambulatory or under general anesthesia.
What is the procedure of the surgery ?
You may arrive in the morning of the scheduled surgery day.
The intervention is performed under general anesthesia.
You may go home at the end of the day.
The fixed temporary dental device on implants is placed either the same day or in a session the next day or two days after the intervention.
Soft food for two months.
A definitive dental appliance is crafted (by your dentist) in your home town.
The cost varies according to the complexity of the anatomical situation.
An estimate will be given to you during our first consultation.
There would be a fee of approximately 15275 euros which covers surgery, hospitalization at La clinique du Parc de Toulouse, general anesthesia, computer processing and surgical simulation, implants placement, and temporary fixed prosthetic rehabilitation with immediate loading.
This amount could be higher if anatomical situation is complex (dental extractions at the surgery time, implant placement in the mandible, etc.), lower when the anatomical situation is simple.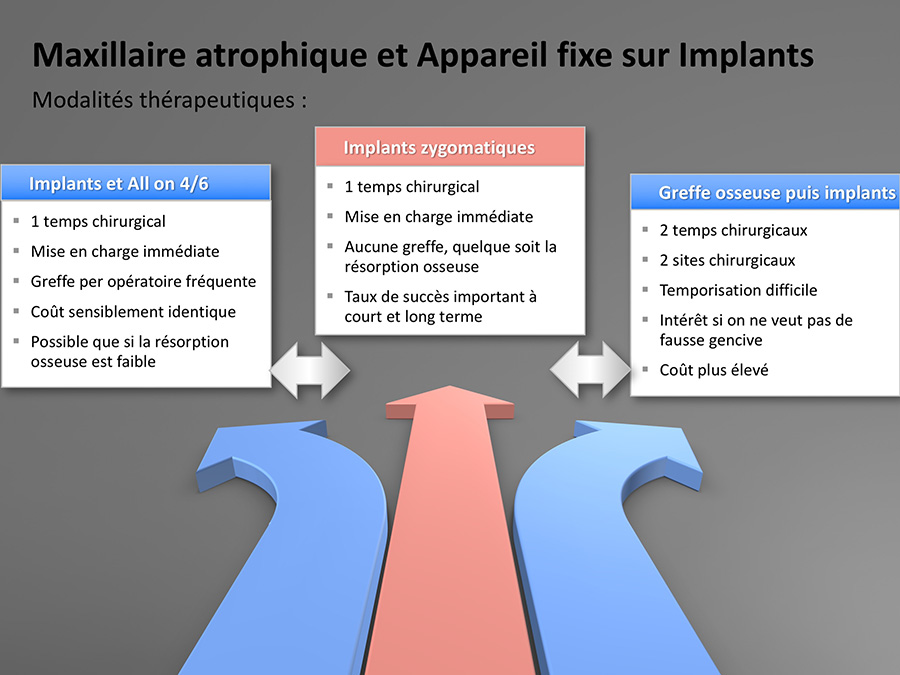 Atrophic maxilla and fixed appliance on implants